Street Outlaws is a reality television series in America. The show premiered on June 10, 2013, on Discovery Television Channel.
Currently, the show has nine seasons and with varying numbers of episodes ranging from eight to fourteen.
The Street Outlaws is a show of wits where the cast portrays illegal street racing, competitive driving skills and fastest racing cars in Oklahoma City. Take a look at the lives and net worth of the member racers of 'Street Outlaws'.
Street Outlaws Net Worth & Salary.
Competition is among the cast members to determine the top-ten quickest and also against other states to find out who's car is the fastest. The racers do anything from risking their lives, going to jail and reckless spending to be on top of the race.
Cast members in the show are Ryan Martin, Big Chief, Daddy Dave, Chuck Seitsinger, Doc, Shane, Dominator, Monza, Jeff Lutz, Murder Nova, Kye Kelley, Lizzy Musi, Alisa Monte, JJ da Boss, Precious Cooper, and Bobby Ducote.
Learn about the net worth and salary of each of the show's members.
Ryan Martin Net Worth is $2 million
Ryan Martin is an American street racer in the show who has already made it to the top. Martin has some cars as well as co-owning B and R Performance. His personal life is unknown because he is still new in Street Outlaws show.
Ryan Martin is believed to hold an estimated net worth of close to 2 million dollars. Most source of his net worth is already shown in the show as he makes from being a racer, co-owner of B&R Performance and at the same time being a TV personality for the 'Street Outlaws.'
The top racer of the 'Street Outlaws' is as secretive when it comes to his personal life and he is open when it comes to his professional life.
So there is not much we know about him outside his life on 'Street Outlaws'.
Big Chief Net Worth:
His real name is Justin Shearer. Best known for starring on Discovery Television show, Street Outlaws. Big Chief date of birth is 9, 1980, in Louisville, Kentucky.
He developed an interest in street racing at a tender age. When his family relocated to Oklahoma City, Big Chief was twelve years when he got exposed to competition.
He is a top racer in the show since from season one onwards. His net worth is $2 million. Married to his longtime girlfriend, Alicia Shearer in 2006. Together, they have two sons, Covil and Corbin. But now Big Chief and Allicia Shearer have divorced.
His salary, for the time being, remains unknown.
Daddy Dave Net Worth:
Dave's real name is David Comstock, born on April 4, 1973, in Shawnee, Oklahoma. Son of Peter and Marge and raised along with his brothers in his birthplace.
At the age of 16 years, Dave started by driving his father's car and developed his passion for racing. He first appeared on a TV show, Pinks, in 2009 but he became famous when he started starring in the Street Outlaws show.
In August 2015, He got into a car accident and got severe injuries.
David Comstock aka Daddy Dave net worth is $1 million with a salary of $20,000 per episode. Dave is a family man, married with two young daughters.
Chuck Seitsinger Net Worth is $650,000
Chuck is a television personality starring in Street Outlaws, a reality TV series on Discovery Channel. Chuck Seitsinger net worth is $650,000. He is married with two daughters. Chuck is well known for his 1989 Ford fox body Mustang called 'Deathtrap.'
His salary is also not unknown to the public.
Street Outlaws James Love "DOC" Net Worth is $550,000
His name is James Love, and he is one of the most famous cast members in Street Outlaws. Doc has a net worth of $ 550,000 while his salary is still under calculation.
His racing car is a 1970 Chevrolet Monte Carlo called 'The Street Beast.' He is married to Judy Love since 1990, and together they have two daughters.
Shane McAlary Net Worth:
Shane is the cast member of the Street Outlaws series. Involved in a tragic accident which took him away from the racing for a while.
Shane McAlary is a native of Oklahoma where he was raised together with his two sisters, Carrie McAlary and Stacie McAlary Holly.
His father, Alex McAlary, was a professional racer and he introduced Shane to racing at an early age. He joined Street Outlaw's cast in season six which ranked at position six.
Street Outlaws Shane's net worth and salary are not known. He is married to Ashley McLarty whom they share two sons. Currently, he stays in Elk City, Oklahoma.
Dominator Net Worth is $1 million
His real is Joe Woods and was born in the world of automotive. Street Outlaws Joe Wood aka Dominator net worth is $1 million, and he is among the top five on the show, but his salary, however, is not known.
Apart from racing, Joe also sells his merchandise in form T-Shirts to his fans, and it helps in raising his income.
Monza
He drives a black Chevrolet Camaro, and he is a famous cast member on the reality show Street Outlaws. Street Outlaws' Monza's net worth is $500,000 and is believed to have a huge salary.
His real name is Jerry Johnston and is a legend and professional among the street racers. He named his car 'Sinister Split Bumper.'
Jeff Lutz
Jeff Lutz is a street racer born on May 15, 1975, and he is a cast member in the reality TV series, Street Outlaws. He holds a record at the Hot Rod Drag Week.
His car is a 1969 Chevrolet Camaro nicknamed Mad Max. Obsession with racing landed him a place on the Discovery reality series, Street Outlaws.
He owns streetcars modification shop based in Callery, Pennsylvania. As of 2023, his net worth is approximately $3 million. Street Outlaws' Jeff Lutz is married to Christine Lutz, and both have a son, Jeffry Lutz.
Murder Nova.
His real name is Shawn Ellington, born on November 15, 1977, in Merced, California but was raised in Oklahoma. He developed the love for cars while working around car body shop at a young age.
In 2013, Shawn got the opportunity to cast in the reality TV show,  Street Outlaws. Street Outlaws' Murder Nova net worth is $1 million as of 2023.
Kye Kelley Net Worth is $500,000
He is also known as the 'Shocker", a renowned sports personality. He was once married to Alisa Mote but divorced. Together they have a daughter named Kenadeigh Alexa Kelley.
Kye is currently dating Lizzy Musi. Street Outlaws' Kye Kelly has a net worth of $500,000 earned from car racing and his show 'Street Outlaws' His annual income is $ 150,000 from the show.
Kye Kelley was born in Mississippi, United States.
Lizzy Musi Net Worth:
She is one of the cast members in the series 'Street Outlaws' and the new girlfriend to Kye Kelley. Lizzy Musi is a significant drag racer and influential female personality of all time.
She shot to fame since 2014 when she won the PDRA race after emerging the first female to break 200MPH. Her sports passion has enabled her to have a net worth of $1 million.
Lizzy is the daughter of Pat Musi who was a professional drag racer and engine builder. Her date of birth is on January 1, 1991, and raised in New Jersey.
Alisa Mote is Kye Kelly's ex-wife. They have a daughter named Kanedeigh who's turning two years old this year( 2018) Alisa works as a nurse, but her net worth and salary are not known.
JJ Da Boss Net Worth:
He was born Jonathan Day on August 1973,  in Memphis, a street racing legend on the Street Outlaws in Memphis. Raised in Arkansas where he graduated from Rivercrest High School in 1992.
He was raised single-handedly by his mother. His came from a low-income family and spent much of his time on the streets hustling for money.
He began driving and racing at ten years old on dirt and gravel roads across Mississippi County.
Jj Da Boss was once convicted and spent eight years behind bars where his life transformed for better. His net worth is $3 million. He is married with eleven children and five grandchildren.
Precious Cooper Net Worth:
She is popularly known as the 'Queen Of The Streets' from Memphis. Precious Cooper was born in 1989 in Osceola, Florida. She was introduced to Street Outlaws in season nine by JJ Da Boss.
Her parents are Ricky Cooper and Sarah Cooper. The low-income in her family made her venture into car racing to assist her parents. Her net worth is $1 million.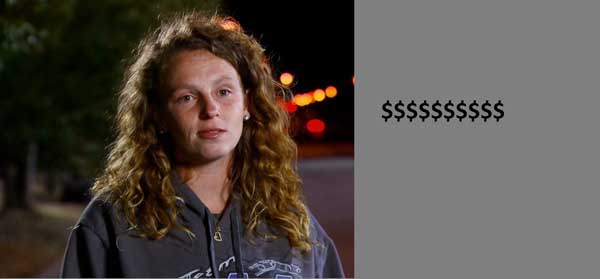 Precious Cooper