Chuck Seitsinger is a champion car racer and also the owner of Chuck Seitsinger Racing.  His fame grew when he joined Discovery Chanel's Street Outlaws, and so did his net worth.
Little is known about this reality TV show star,  and this review will answer some of the questions his fans have, including whether or not he is dating or if he has any kids.
Street Outlaws Chuck Seitsinger Net worth and salary.
Chuck Seitsinger is one of the most respected cast members on Street Outlaws. The series has been a major success since it was released.
The show has impacted the lives of all the cast members, and this Street Outlaws racer is no exception. Chuck Seitsinger's Net Worth, fame, and fortune increased thanks to the show.
As of 2023, Chuck Seitsinger's net worth stands at $800,000. As for cars,  he has a Ford Mustang since 1989. The car has been modified heavily and features a Chevy engine powered by a supercharged turbo.
Chuck Seitsinger ex-wife and Three Daughters.
Although we have mentioned earlier that there is not much information about his personal life, Street Outlaw's Chuck is a divorced man. Sources say he has an ex-wife and three daughters.  
His eldest daughter, Chelsea Kathryn Swanksinger, is currently majoring in veterinary medicine at the Oklahoma State University in Oklahoma.
Chuck Seitsinger also has a daughter named Maddie, whom she often posts on his Instagram account. It appears this street outlaws racer is a serious family man and is in a stable marriage and a good husband to his wife.
Is he dating anyone new?
Yes, after separating from his first wife, Chuck found love once more. He soon started dating fellow divorcee Elisa Noelle. Both of them confirmed the relationship with various social media posts.
The Career that gave Chuck Seitsinger an awesome net worth
Before Chuck Seitsinger and others joined the Discovery Channel family, he had tried out a hand with the Death Trap Mustang, which was a side project gone sour.  
He had been in the import business, and things did not work there, and he had to hit the road.  This made him build his Mustang to keep him busy while the sport compact contingent dealt with him.
During this period,  the production wheels began to turn toward making the show a reality,  so he chose to focus on the Mustang.
The Death Trap started as a daily drivable street car to one of the fastest small tire cars in the country before placing big tires under the machine to make sure it was competitive. It is quite interesting when one looks at where Chuck comes from before joining Street Outlaws.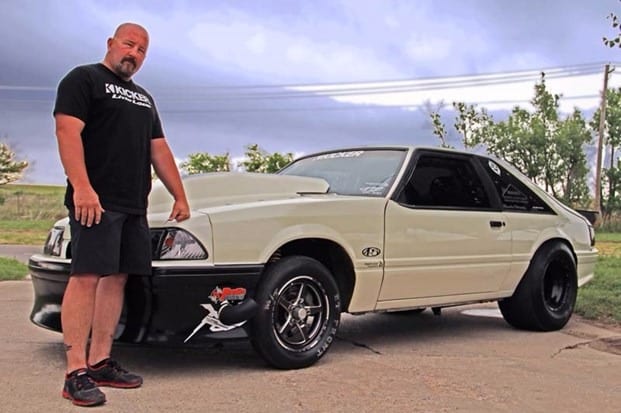 Chuck Seitsinger has a certificate from Honda Factory  Trained Technician. He later got the highest level of qualification as a Honda Factory Trained  Service Advisor. He started working on his current car in 2001, Death Trap. The car is a 1989 Ford Fox  Mustang.
Towards the end of 2004,  he won the 2004 NDRA National Championship and earned the title Rookie of the Year. In 2006, he won the championship again with his incredible car together with other races. He is an active cast member of the show Street Outlaws since it was first aired on June 10th 2013, Discovery Channel.
Wiki bio
Street Outlaws Chuck Seitsinger is 53 years old.  He was born on February 18, 1970, in the city of Oklahoma.  His passion for cars started when he was only 16. And he got paid for that.  We went to Edmond Memorial High School, where he graduated in 1988.
In 1990, he went on to join Honda as a technician.  Also, Chuck Seitsinger is quite active on social media platforms, and he posts a lot of selfies with her daughter Maddie,  especially on his Instagram.
Also, Chuck Seitsinger from Street Outlaw has a sister and brother named Kimberly and Dustin, respectively.