Kyle Chrisley is a part-time musician and former reality television star.  He first burst onto our screens after appearing on his father's television show, Chrisley Knows Best.
Though he only featured on a few episodes, he left a long-standing impression on fans. Read this to know what happened to Kyle Chrisley.
This was particularly down to his icy relationship with his father, Todd. Over the years, Kyle Chrisley has endured a series of highs and lows. What happened to the former reality star?
Find out right here in this review as we take a look at all the trouble that has followed Kyle over the years.
Who is Kyle Chrisley?
Kyle Chrisley is famous for being the son of real estate tycoon Todd Chrisley. He came into this world back in 1991, more particularly on the 29th of August in South Carolina.
His mother, Julie, was not in the picture for long, as she left after divorcing Todd. Kyle grew up alongside four other siblings. These are Savannah, Grayson, Chase and Lindsie Chrisley.
Kyle is also a proud father of a daughter named Chloe. She was born back in 2012 and is 11 years old at the moment. However, Kyle does not have custody of his daughter.
His most recent relationship was with a woman named Alexus Whilby.
When he was a teenager, Kyle was sent to Samoa to team up with the Red Cross Organization. His father hoped it would help build his character. Unfortunately, it did not. So, what went wrong with Todd?
What happened to Kyle Chrisley? Drug Problem.
Kyle Chrisley had several problems with drug abuse over the years. The first documented instance came when he threatened his father after abusing an unknown substance.
This would lead to a strain on their relationship even after his father tried to get him into rehab.
However, he relapsed again while he was in a relationship with a woman named Angela. In fact, things got so bad that there were instances of domestic violence sighted.
It would even lead to Kyle losing guardianship of his daughter over his drug problem.
Kyle got clean again, only to relapse for the third time. This was while he was married to Alexus. Kyle got high and sent his wife's life-threatening messages.
It got so bad that she had to go to the police. A few months later, Kyle was arrested when the police found Methamphetamine on his person while he was driving across Oklahoma.
His last stint with drugs came last year, and it almost cost him his life as Kyle attempted suicide. Fortunately enough, paramedics arrived just in time to save his life.
Arrest.
The first recorded time Kyle Chrisley faced trouble with the law was when he threatened his father's life. This was during one of his drug-fueled bends.
In fact, Kyle had to be put on a psychiatric hold as a result, and the charges were filed by the police.
The next time he faced trouble with the police was when his ex-girlfriend Angela accused him of domestic abuse. This was during another one of his drug bends. Kyle was taken to court, and he lost custody of his daughter as a result.
Just when things were getting better for Kyle, he would relapse again and send threatening messages to his new wife, Alexus. The police investigated the claim and brought Kyle in for questioning.
Not long after, Kyle would be arrested for drug possession in Oklahoma.
It is fair to say that Kyle Chrisley has had continued brushes with the law. There may be other undocumented instances of arrests that we are unaware of. Hopefully, Kyle is finally turning his life around.
Family Drama.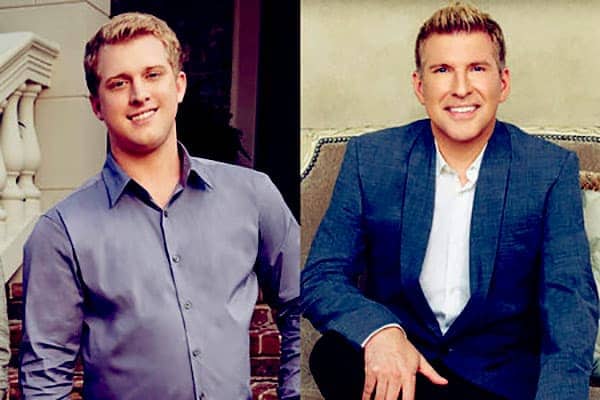 The Chrisleys are never far away from family drama. Todd and his son Kyle, in particular, have had their fair share of conflict. It even went as far as Kyle threatening his father.
They would become further estranged after Todd won custody of Kyle's daughter. Kyle would take his father back to court and sue him for visitation rights. The next time the family would come together was after Kyle tried to commit suicide.
They all came to see him at the hospital, and it paved the way for a fresh start for them. Let's hope that it sticks. Kyle also got arrested as he allegedly punched his sister Lindsie.
Is he married?
Yes, Kyle is now a married man. He and his then-fiancée,  Ashleigh Nelson, made things official on the 30th of March 2021 at St. Augustine, Florida. This came after a 2-month engagement stretching back to February.