Mike Holmes is an exemplary successful Canadian businessman, investor, television host, and philanthropist. He is mainly known for his home renovation and construction expertise.
Besides his career, let's dig deeper on his personal life and find about Mike Holmes' Wife and family. Also, you shall find out Mike Holmes net worth figure. Read on, it's all below.
Mike Holmes Career, Tv Shows
Mike Holmes career has its root from his childhood. At the age of 6 years, he had already started learning construction from his father.
Reportedly, he established his first contracting company at the age of 19. Having a business mind, two years later at age 21, he established his own renovation company.
Mike Holmes made very drastic progress in his career life. In 2006, he set up The Holmes Foundation. The core purpose of this foundation being, to encourage young people to venture in building trades. In addition, the foundation also aids those impoverished by bad renovations.
His advocacy for improved building standards made him recognized in Canada's House of Commons in 2006. Mike Holmes has written two very educative books. One is Home Renovation with Canada's Most Trusted Contractor.
This turned out to be the best selling nationally. The second book is Holmes Inspection: Everything You Need to Know Before You Buy or Sell Your Home.
Mike Holmes also holds another profession as a national spokesperson for Skills/Competencies in Canada. Moreover, Mike Holmes is a celebrated television personality for many years. He has hosted his own TV shows and appeared as a guest and judge in others.
His career in the television took debut in 2001. This is when he hosted his first show, Holmes on Homes on HGTV Canada. Since then, he has hosted a number of other TV shows.
Some of these are; Best of Holmes on Homes, Holmes Makes It Right and Holmes Inspection. Reportedly, he owns a construction company, which does home renovations and new home construction. The TV star also has a television production company named Make It Right Productions.
Mike Holmes portrayed as a judge on all seasons of Handyman Superstar Challenge
His successful career has won him several awards and accolades. In 2004, he won the Gemini Awards: Viewers' Choice Award. On 21st February 2008, British Columbia Institute of Technology awarded him an Honorary Doctor of Technology.
Moreover, on June 18, 2012, he was awarded Queen Elizabeth II, Diamond Jubilee Medal.
Mike Holmes Net Worth: $30 Million.
His home improvement career as a contractor stands out as the main source of income. It is through practicing it for years that he has acquired quite a huge net worth.
Moreover, he has been a television host for close to two decades now. He has also appeared as a judge in some TV shows. While in others he made appearances as a guest star. From all these, he undoubtedly has garnered a good income.
In addition, he received The Queen Elizabeth II Diamond Jubilee Medal on June 18, 2012. This was a major boost to his total net worth. Mike Holmes net worth is currently estimated to be $30 million.
Mike Holmes is Dating Girlfriend Anna Zappia after Divorce from ex-wife Alexandra Lorex.
In 1982, Mike Holmes married his wife, Alexandra Lorex. At this time, he was very young, at only 19 years old. Seemingly, family life and marriage went on well for a couple of years. In addition, the couple was blessed with three kids.
However, in the 1990s, a terrible recession hit Canada. Mike Holmes lost a lot of his businesses and property and a financial difficulty struck in. As a result, there was much strain on his marriage.
It wasn't long before Mike Holmes lost both of his parents. In addition to the pain, he divorced with his wife, Lorex at around the same time. The television personality remained single until 2000 when he began dating again.
He began dating Anna Zappia and the two have been together ever since. He often attends social events and red-carpet events with Anna Zappia by his side.
Reportedly, Mike has not officially married Anna as his wife though they currently live together. Moreover, they don't have any kid together.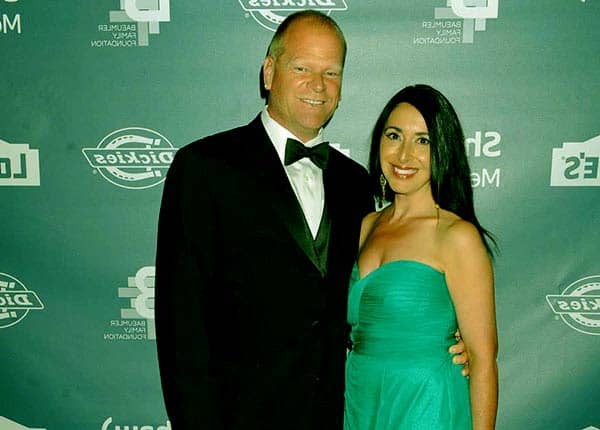 Mike Holmes Family
Mike Holmes wiki-bio indicate that he was born and brought up in a middle-class nuclear family. His father was Jim Holmes while his mother's name was Shirley Holmes.
Mike Holmes was born between two siblings. A sister precedes him, and a brother follows him. However, the wiki has not revealed their names.
Wiki has not also disclosed much about this family. Reportedly, the celebrity learned construction work from his dad when he was 6 years old.
Children
Mike Holmes has three children, two daughters, and one son. These are; Amanda Holmes, Sherry Holmes, and Mike Holmes Jr. All these three children, Mike Holmes bore with his first wife, Alexandra Lorex.
Reportedly, the kids were born when he was yet 25 years old. Currently, Mike Holmes works alongside his three children in his construction business. The children have also been featured in his shows.
How old is Mike Holmes? Know his Age, and Birthdate.
Mike Holmes is currently 60 years old. According to his bio, he was born on 3rd August 1963, in Halton Hills, Canada. The television star's real name is Michael James Holmes.
Summary
Mike Holmes is a renowned Canadian businessman, investor, and TV personality. He was married and divorced in the 1990s. Currently, he is dating Anna Zappia. Three children are born to him; Amanda, Sherry and Mike Jr. Mike Holmes net worth is approximately $30 million.
Name
Michael James Holmes
Age
60 years old
Birthdate
3rd August 1963
Birthplace
Halton Hills, Canada
Nationality
Canadian
Parents
Jim Holmes (father), Shirley Holmes (mother)
Siblings
2
Career
Investor, Businessman, TV Personality
Net worth
$30 million
Wife
Alexandra Lorex (divorced in the 1990s)

Anna Zappia (dating)

Children
3 (Amanda, Sherry and Mike Jr.)
Height
6 feet 1 inch
Weight
83 kgs