Lori Fieri has no credentials of her own to make her a celebrity. However, she is famous, but, in this case, she is considered a minor celebrity. She came to the limelight after being hooked up to a renowned American chef, Guy Fieri. In this article, there are more in-depth facts about Guy Fieri's wife, Lori Fieri, including her biography.
Story of How Guy Fieri and Wife Lori Fieri Met.
Every love story is a journey that has a specific origin. In reality, no love story is similar to another in this world. However, some love stories are more interesting and sweet than others. In this case, we are looking at how Guy Fieri and his wife Lori Fieri met.
According to wiki sources, Guy Fieri and wife Lori met in 1993. During this time, Lori had gone for her first visit to California. She was on a cross-country trip from her homeland, Rhode Island, to San Diego. Lori made a stopover at Long Beach, California to see a friend. Coincidentally, the friend worked in the same restaurant as Guy Fieri.
As Lori went to meet up her friend, he found Guy Fieri talking to her friend. Lori's friend wasn't supposed to be in the restaurant because she had already been let go. Fieri was trying to explain this to her when Lori walked in and stood behind her friend. On hearing Guy Fieri's comments, Lori immediately jumped to her friend's defense.
She harshly told Guy that it wasn't rightful for him to make them leave. On the contrary, Guy replied to her in a soft voice and allowed them to stay. Moreover, Guy Fieri requested them to keep a low profile, and this is how they became friends.
However, something unusual struck Guy immediately, he saw Lori. He was convinced in his heart that Lori was his right match. Deep down his heart, he knew that Lori was different from other ladies he had met before.
Ironically, Guy Fieri fell in love with Lori at first sight. On the contrary, Lori was harsh to Guy the very first time she spoke to him. Since that day, their friendship started growing and eventually graduated to love. Instead of Guy taking Lori out to expensive hotels, he cooked for her! Surprisingly, this won her heart, given that she also loves cooking.
In 1995, Guy and Lori got married, after having known each other for two years. Presently, the couple is in their 26th year of married life. All seems well with them, and there are no prospects of divorce.
Lori's Family.
Lori Fieri was born and brought up in a blue-collar family. According to wiki-bio, her family was among the poor families in North Providence, Rhode Island.
This prompted her parents to do menial jobs for a living. Reportedly, her father was a toolmaker while her mother was a housemaid. Presently, it is not known whether Guy Fieri's wife has siblings or not. This is because there are no siblings affiliated to her mentioned in wiki sources.
Children.
Lori Fieri and her husband, Guy Fieri have two children according to wiki information. Their first-born child, Hunter Fieri, was born on August 7, 1996. As such, Hunter is presently 25-years old. On 31st December 2005, the couple welcomed their second child, Ryder Fieri. He is just 15-years old at the moment.
Currently, the Fieri's family of four lives in a 1940s ranch-style home in Santa Rosa, California.
Guy Fieri's Wife Lori Fieri Wiki-Biography.
Lori Fieri is the woman behind the success of the Food Network star, Guy Fieri. Reportedly, she has been the greatest inspiration and encouragement to Guy's life. Twenty-four years in marriage is no joke. She has known the best and ugliest sides of her husband. She has been with him through filming 1,100-plus locations on Diners, Drive-Ins, and Dives.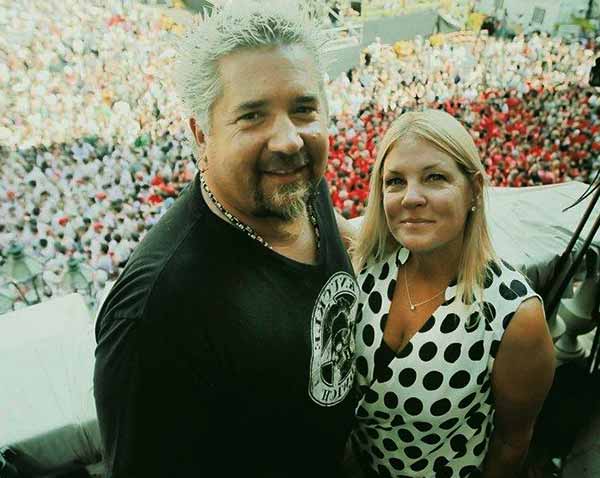 Lori Fieri's Net Worth, Career, Profession.
Guy Fieri's wife Lori Fieri has all along kept a low key on her personal and professional life. She is rarely on social media leave alone the television. According to wiki information, Lori Fieri is a housewife. Her education details are under wraps, and presumably, she has no established career.
Guy Fieri's wife spends most of her time encouraging her husband in developing some crazy food ideas. Also, her being a housewife, she spends quality time with her boys. Lori Fieri was not known in public until 2006.
On April 23, 2006, her husband won in the second season of The Next Food Network Star. Guy Fieri became the champion of the season 2 cooking competition. From then till now, Lori Fieri became known as the champion's wife.
She even gets special seats in major events like NASCAR and Super Bowl. Also, she makes appearances on some of her husband's TV shows on the Food Network.
For instance, Lori appeared as a checkout clerk on one of the episodes of Guy's, 'Grocery Game. She shares the success and fame of her husband. At the moment, her net worth hasn't been disclosed. However, her husband, Guy Fieri, has a net worth of $8.5 million.
One thing about Lori Fieri is that she is a food enthusiast, just like her husband. She has always supported him as he strives to take his love of food to the next level. Reportedly, Lori was the one who encouraged Guy to apply in the Food Network.
She compelled him to submit a copy of his saucy and bold cooking for auditioning. Also, she encouraged him to go when he was invited for the show. He initially hesitated because his wife was pregnant and didn't want to leave her alone.
Her Age and Birthdate.
Lori Fieri is presently 48 years of age since she was born in 1973. However, her exact birthdate is not revealed in wiki-bio sources.
| | |
| --- | --- |
| Name | Lori Fieri |
| Age | 48 years old |
| Birthdate | 1973 |
| Birthplace | North Providence, Rhode Island |
| Nationality | American |
| Parents | Not known |
| Siblings | Not known |
| Career | Celebrity's wife |
| Net worth | Under review |
| Husband | Guy Fieri |
| Children | 2 (Hunter and Ryder Fieri) |
| Height | 5 feet 6 inches |
| Weight | Not known |