The movie 'Crazy Rich Asians, which recently came out is more than just a great movie. It is also a medium to help people understand the concept of diversity in the USA from the standpoint of its Asian minority groups.
In the field of TV shows, many programs help promote diversity. However, there are a few in reality television like 'Shahs of Sunset' that feature an all-Persian ethnic cast.
The show circles around the documentary of the real lives of a group of wealthy Persian-Americans. You already must know so much about their high-end, prosperous lives, but how much do you know about them?
Do you know Shahs of Sunset Cast's net worth, salary, and sources of income, for instance? Find out all that and much more from this article.
Shahs Of Sunset Mike Shouhed Net Worth
Mike Shouhed is one of the original cast of the show 'Shahs of the Sunset' who is an excellent real estate agent. Mike Shouhed is estimated to have a net worth of close to 3 million dollars.
Mike Shouhed may sometimes appear to be living quite the grand life with his massive net worth. Nevertheless, he faced a subsequent loss in his real estate career in Las Vegas in 2008, which led him to return to Los Angeles.
His salary, both as a real estate agent and from the show, remains unknown. He was married to ex-wife Jessica Parido for two years, who ended their marriage due to Mike's infidelity.
Shahs Of Sunset Reza Farahan Net Worth, Salary.
Reza Farahan is another crucial original member of the series. He is openly gay and is married to his husband, Adam Neely. Like Mike, Reza also made much of his fortune as a very successful real estate agent.
He also makes a huge salary from the show 'Shahs of Sunset' which remains undisclosed. He initially got into the show as a way of being a model for Middle-Easterners and gay people alike.
There is confusion related to the exact net worth of Reza Farahan as well. Reza Farahan's net worth is $6 million according to some sources while others put his net worth valued at 7 million dollars.
Golnesa Gharachedaghi "GG" Net Worth, Salary.
Golnesa Gharachedaghi or GG as she goes by is probably the most exciting cast member of the show Shah of Sunsets. She is an entrepreneur, and new to the business.
Her entrepreneurial spirit started only after the show began, she was previously unemployed. However, she has a substantial income and also managed to garner a net worth estimated at almost 12 million dollars. .
She is the daughter of architect and principal Mahmoud Gharacheda, who was born in Tehran, Iran and raised in Beverly Hills, California. The actress is known to be of a fiery and combative nature and is said to have even been kicked out of multiple schools for fighting.
Golnesa graduated from Loyola Marymount University. Although the actress' salary from her career as an entrepreneur is unknown, her salary for 'Shahs of Sunset' is 150,000 dollars per season.
Lilly Ghalichi Net Worth, Salary.
Lilly Ghalichi, otherwise known by her real name, Neelufar Seyed Ghalichi, is a former cast member of the 'Shahs of the Sunset.' She appeared in the series in its second and third seasons.
The actress is also referred to as the 'Persian Barbie' by the show's cast members, is an entrepreneur as well as a blogger who has launched various ideas and products like her lingerie, swimwear and eyelashes. Lilly Ghalichi has an estimated net worth of around 50 million dollars.
Lilly grew up in Houston, Texas and has attended McCombs School of Business, The University of Texas in Austin and Loyola Law School. She also faces some criticism from her conservative family for leaving the career path in law.
She had an on-again-off-again relationship with a Los Angeles based boyfriend named Ali who she even got engaged to but broke it off after he cheated on her.
Destiney Rose Net Worth, Salary.
Destiney Rose is a new member of the show who only officially joined the cast of 'Shahs of Sunset' from its seventh and current ongoing season. She did, however, make her appearance in the show during its 6th season as a friend to Reza Farahan and Shervin Roohparvar.
Rose is a party planner who organized Mike's house-warming party where Asa Rahmati announced her pregnancy.
Perhaps it's because she is a new member; Destine Rose's net worth has a little confusion, with sources estimating it to be around 1.4 million dollars.
Asa Soltan Rahmati Net Worth, Salary.
Asa Soltan Rahmati is also a former cast member of 'Shahs of Sunset' show.
Asa Soltan from Shahs of Sunset is estimated to be almost 250 thousand dollars in net worth. She gains her salary from the show as well as her work as an artist and entrepreneur.
Shervin Roohparvar Net Worth, Salary.
Shervin Roohparvar is another one of the new members of the show, and he may already be quitting it. The actor appeared in 'Shahs of Sunset' during its 4th season but only as a friend and officially became a member of its 5th and 6th seasons.
He will also be informally appearing on the show despite not being a cast member for its 7th season.
Shervin Roohparvar is a handsome hunk who is single and looking for a partner in the show. Sadly, he has not met anyone special yet.
Shervin Roohparvar is estimated to have a net worth of about 12 million dollars, thanks to his salary from the show. Moreover, his successful business ventures, like his electronics business called Silicon Valley Compucycle, also add to his fortune.
Mercedes Javid Net Worth, Salary.
Mercedes Javid also called by his initials 'MJ' is also an original member of the show, Shahs of Sunset. She is a real estate agent as well and is estimated to have a net worth of nearly $5 million.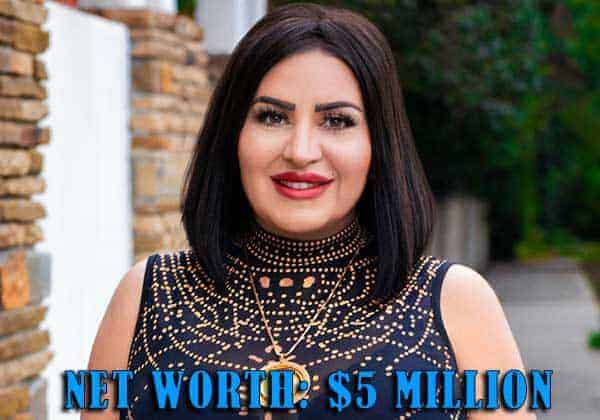 Shahs Of Sunsets Cast Mercedes Javid net worth is $5 millionHer exact salary from her business is not known. Mercedes had problems with self-consciousness when growing up and even took diet pills at the age of 14. She and Reza Farahan are both employee realtors and the best of Keller Williams Realty.