Noah Cappe is a television personality who became a bankable household name after hosting reality shows like Carnival Eats. He also worked on the Canadian version of The Bachelorette. Stepping away from reality television, Noah is also a working actor.
He has featured in projects like How to plan an orgy in a small town as well as the Good Witch. The Canadian actor has worked with reputable actresses like Laura Vandervoort.
Get an in-depth look at Noah Cappe as we set out to know more about his net worth and Wikipedia Bio. Meet his wife Kari West.
Who is Noah Cappe?
Noah Cappe is a Toronto born foodie and television host. His claim to fame was working on Canada's Bachelorette, and Carnival Eats.
The latter sees him traverse Canada and the neighboring American states as he tries different cuisines across all kinds of festivals. The show first debuted on the 11th of August 2014.  So far, it has nine seasons to its name.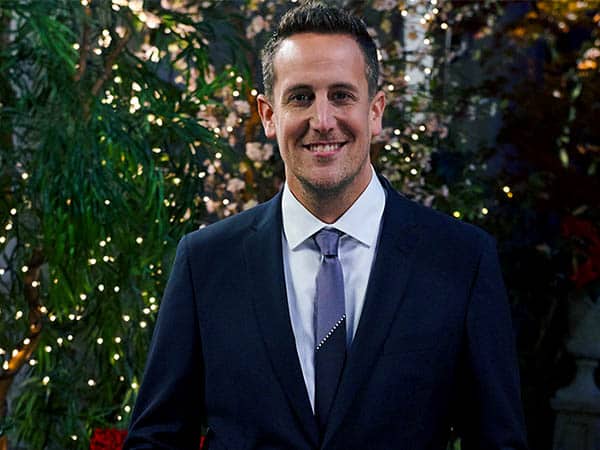 Surprisingly, the Canadian actor started at the musical theatre. He has an incredible voice, and it undoubtedly paved the way for his career on television. His first movie role came back in the 90s when he got a role in Ursa Major.
Noah Cappe's breakout role would come when he was brought on to star in Hallmark's The Good Witch. The actor was cast as Derek Sanders, and he instantly became one of the most beloved characters on the show.
This would see him brought on to work on several more projects. These include Nikita, Wild Roses, the 5th Quadrant, Iron Chef Canada, and Rookie Blue. The actor would also go on to lend his voice to the videogame, Defiance, back in 2013.
Noah's career was defined by his role in Carnival Eats as well as his hosting gig on the Bachelorette. The shows boast millions of fans worldwide and have propelled the actor to the very heights of fame.
Noah Cappe is Married to Wife Keri West.
The Canadian actor is still married to Keri West. In fact, the pair have been together for more than two decades now. They met back at the turn of the millennium while they were both on vacation in Israel.
The two bonded over the fact that they were both from Toronto, developing a quick friendship. After their stay in Israel, the two opted to keep in touch and developed a very close bond. This would eventually translate to Noah and Keri West dating.
More than a decade later Cappe finally popped the question. It was one of the most romantic proposals audiences have ever witnessed. The actor went on stage after Keri had finished with her performance and got down on one knee.
A wedding followed soon after with several family and close friends in attendance. The Ceremony took place in their hometown of Toronto. Later on, the Noah Cappe and wife Keri West opt to renew their wedding vows in Scotland with Noah's grandfather in attendance this time.
The older man was not faring well, health-wise, and so they wanted to do something special for him before he passed away. Interestingly enough, the two would go through the process another time, at the city hall this time.
This was back on September 10th 2017. Noah Cappe and wife Keri West does not have any children yet. However, it is reported that they are looking into the process of adoption.
Noah Cappe Net Worth.
The television personality applies his trade across both the world of acting and reality television. Sources say that television hosts can make well over $80,000 a year.
Let's not forget that Noah Cappe has also featured on television shows like the Good Witch, and Carnival Eats.
As such, it is reported that Noah Cappe's has an estimated net worth of $19 million. We will update you on any changes to Noah Cappe net worth should it happen.
Noah Cappe Wikipedia, Family, Age.
The Canadian actor came into this world on December 27th, 1977, in Toronto, Canada. This would suggest that he is 45 years old at the moment. Though he'll turn 46 in a few months. Noah's parents are Vivian and Leslie Cappe.
The television personality grew up with seven other siblings: three sisters and four brothers. One of his brothers is named Jesse.
We were not able to uncover any more details about Noah's family. This was unsurprising, as the actor is a private person by nature. His educational background includes studying at the Forest Hill Institute.
This is where he discovered his talents in the arts. While music got him noticed, it is acting that would propel him to the top. His early roles in movies like Ursa Major lay the foundation for his remarkable career.
Noah Cappe remains very close to his parents. The actor regularly plays golf with his father, as is evident from his Instagram posts. He also regularly posts pictures with his mother, and recently just wished her a happy birthday.
Noah is also a married man, with a wife named Keri.
| | |
| --- | --- |
| Full name | Noah Cappe. |
| Age | 45 years old. |
| Date of Birth | 27th December 1977. |
| Place of Birth | Toronto, Canada. |
| Profession | Actor, Reality TV host. |
| Net worth | $19 million. |
| Wife | Keri West. |
| Kids | 1 |
| Nationality | Canadian |
| Ethnicity | Caucasian |
| Zodiac Sign | Capricorn. |
| Parents | Leslie and Vivian Cappe. |