Redhead tattooed Chico from Moonshiners, sorry I don't have a second name to add to that, is a Kentucky outlaw moonshiner who appears on the docudrama, Moonshiners on Discovery Channel. The series was first released in 2011 and follows the lives of a few men that illegally brew moonshine, high-proof distilled spirits or in simpler terms, white unaged whiskey. The illegality of this TV show is, however, questionable considering Virginia Authorities claim that it's all legal!
Well, legal or illegal, that's a story for another as today's focus is Chico. His first appearance on Moonshiners was back in 2013 Season three. So, other than being an illegal alcohol brewer Chico has better salary and net worth than most of us? Here's what we know about him, his wife and other facts about his wiki and wife.
Chico From Moonshiners and Wife Sandra.
Let's talk serious stuff first, is it Sandra or Sondra? Well, Chico's wife who made her debut in 2013's Moonshiner's Christmas Special episode, was born Cassondra Thompson. Notice it's Cassondra, not Cassandra, she's therefore by all logic a Sondra.
While I can't tell you when he got married to his wife, I can tell you they have two beautiful kids, a boy, and a girl. From the looks of it, the girl is older.
Sandra, born on the 30th of May, only recently started being more involved in moonshining and is often seeing working with and helping out her hubby.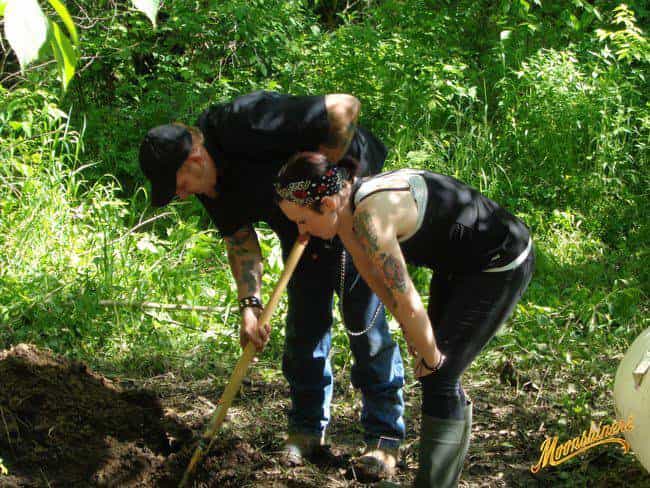 Moonshiner's fans are often seen commenting how Chico's wife Sandra is too pretty for Chico. Okay, I do agree Chico's teeth are not that flattering but hey, if perfect teeth were the basis of a good relationship how many of us would meet the standard?
From the episodes I've watched the two love each other and from the photos I've seen, their smiles are genuine, healthy teeth or not.
Chico From Moonshiners Net Worth & Salary.
While I was trying to find Chico's net worth, two figures kept coming up, $400,000 and $5 million. Could Chico have a net worth of $5 million? To answer that we'll need to look at his source of income.
The first and most obvious source of income is from Moonshiners. His net worth is well displayed for the world to see but is salary is still hidden from the world. We can't blame Chico for that after all even big stars don't easily reveal their salary.
And when Chico isn't brewing illicit liquor, he is usually raising and racing traditional Kentucky Trotter horses. There are also rumors that Chico is in the real estate business which I'm somewhat inclined to believe cause the Discovery Channel website reads, "…his business acumen is supreme". So we can assume that his salary is also pretty huge.
Hmm, maybe just maybe Chico's net worth is $5 million.
Chico and Cassondra Tattoos
 If you want a clear pic of one of Chico's arm tattoos, I suggest you look at his facebook page (Moonshiner Chico) cover photo.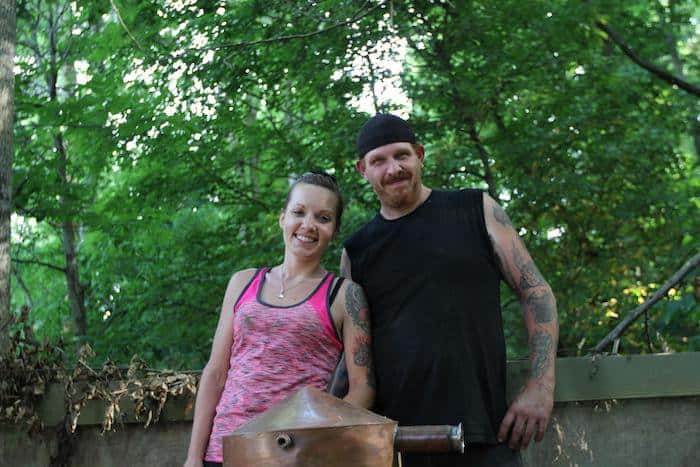 I think the colorful one with corn and a cork-stopped bottle with a handle is meant to signify the art of moonshining. I'm convinced that's the meaning because moonshine's main ingredient is corn mash and once brewed, it's packed in bottles. But that's just me, what do you think?
Chico From Moonshiners Trouble with the Law.
APPARENTLY, Chico has served time. And when employers were reluctant to hire an ex-con, he joined the moonshine business.
He was also allegedly arrested back in 2015 for driving under the influence. Although no one was hurt, he was asked to show up in court and fined.
Well, that's Chico and Sandra, sorry, Sondra for you. Looking forward to seeing what more this year has in store for them. Cheers.