Jillian Michaels is a TV personality, businesswoman, personal trainer, and author. She had her reality show on TV, in addition to appearances in other shows.
Read on to know Jilian Michaels' net worth. Also, Know what she is doing after split from her wife-to-be, fiancé Heidi Rhoades.
Career.
While she was still a student at California State University, Northbridge, Jillian began working as a personal trainer and bartender to raise college upkeep fees. In 2002, she opened the sport and spa facility in Beverly known as the Sports Medicine Facility.
Since she holds certifications from NESTA and AFAA in the US, Jillian began training with her clients in kickboxing, yoga, and weight training techniques.  In 2012, she released a weight loss program dubbed "Revolution," which runs for 90 days.
Jillian together with her manager, Giancarlo Chersich recently launched the 30-minute workout class known as BODYSHRED. It was launched in Canada at the GoodLife gym and in other parts of the US like the UFC and Crunch gyms. Additionally, she also launched a 60-day fitness workout program under her brand Empowered Media LLC.
Some of her books have made it to the New York Best Sellers List. They include "Master your metabolism" and "Unlimited." Jillian Michaels hosted a radio talk show from 2006 to 2009 on KF1.
Michaels also had her podcast show that ran on iTunes called "The Jillian Michaels Show," and was voted the best podcast on Apple Store.
In 2009, she partnered with Wii to release a video game known as "Jillian Michaels Fitness Ultimatum," and other video games also featured on Xbox 360.
The company Empowered media runs a video membership program that features celebrity yoga trainers like Billy Blanks, Tara Stiles, and Cassey Ho. It has audiences in significant resorts in the US.
In 2004, she was the red team trainer in the reality series show 'The Biggest Loser.'  In 2011, Jillian faced a lawsuit regarding her calorie control formula, with the plaintiff stating that some of the ingredients were dangerous and ineffective.
The judges eventually dismissed the case.
Jillian Michaels Net Worth: $18 Million.
The income from the health and fitness products, video memberships and the various talk show have never been disclosed publicly. There are conflicting reports about the salary she earned per episode on her reality TV show and other appearances on the talk show.
Jillian Michael's net worth is $18 million as of 2023. This figure is expected to rise as the audiences to her fitness website known as FitFusion.com expands in number.
She lives a lavish lifestyle in Malibu, where she owns a mansion. According to a source, Jillian used to own a Mercedes Benz G-Wagon that she sent back to Mercedes for a refund for unclear reasons. Without a doubt, she must be in possession of other cars that are yet to go public.
Jillian Michaels and Heidi Rhoades's Relationship.
Michaels is bisexual, and in June 2018, Jillian Michaels announced that she was separating from her fiancé Heidi Rhoades.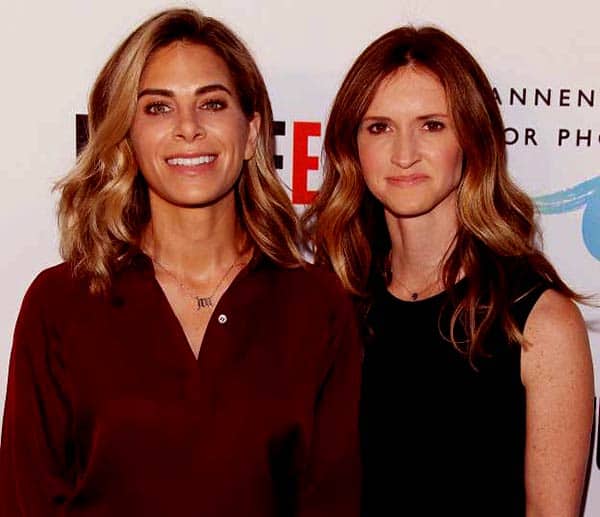 Jillian and Heidi Rhoades had dated for nine years before the separation. She posted on Instagram that they will share a domestic partnership to care for their children. They had one adopted child, whom they adopted from Haiti, and Rhoades has a son.
Heidi Rhoades is a Yoga Instructor who graduated from Pennsylvania State University with a Bachelor of Science degree. She later on enrolled for a YogaWorks Teacher program.  In an interview with Pride Source, Jillian said that she didn't know she was gay until her mid-20s.
After the separation, Michaels wasted no time and moved on. There were some reports that Jillian is dating Australian activist Tara Winkler after the pair were seen dancing and grinding at a bar in Sydney, Australia. Jillian has neither confirmed the reports nor refuted them, and we can only watch this space.
Age, Birthdate
Jillian Michaels is 49 years old. She was born on February 18th, 1974 in Los Angeles, California.
Wiki-Bio, Family
Jillian Michaels is the daughter to Douglass and JoAnn McKarus. Her father was a lawyer in Santa Monica, that's where she was raised.
She once stated that she had a difficult childhood because of verbal abuse from school and her parents' divorce.
Jillian joined the California State University, Northbridge and shortly afterward, she started her sports and spa facility in Beverly Hills. Later she founded her company Empowered Media with her business partner Giancarlo.
Since then she has appeared in many fitness shows and programs, in addition to her reality TV show. Jillian Michaels works with charitable organization like Hope for Haiti and Stand up to Cancer.
Wiki-bio
Birth Name: Jillian Michaels
Birth Date: February 18th, 1974
Age: 49 years old
Place of Birth: Los Angeles, California
Education: California State University, Northbridge
Nationality: American
Height: 5 feet, 2 inches
Occupation: TV personality, host, personal trainer and author
Net Worth: $18 million
Death-O-Meter: Alive.