TLC is home to many prime-time television shows including Cake Boss, Kitchen Boss, and The Next Great Baker. The one common factor about all of them is that they are home to a renown American visionary chef named Buddy Valastro.
As his last name suggests, he is part Italian. For these and more interesting facts about the TV star like his age and wife, read on!
We'll also talk about his luxurious living style and his house but first, here's a quick look at Buddy Valastro net worth and other sources of income.
Buddy Valastro Net Worth Is $10 Million.
Being on Television does have its perks. He gets paid for his appearance on all three shows plus other cameos on different shows like The Apprentice as a guest Judge.
His salary figure from Cake Boss stands at $800,000 for each episode that airs on TLC. However, his earnings from his business are confidential and only limited to the IRS.
The pastry chef Buddy Valastro also makes a ton of money as an executive producer for different shows such as Bakers vs. Fakers. Others include Batalha dos Cozinheiros and Confeiteiros.
Moreover, he is also an entrepreneur and the proud owner of Carlo's Bakery and 17 subsidiary branches all over the country.
His business-oriented mind also made him venture into event planning as he launched his own catering company called Buddy V's Events in 2014. All these and several other partnerships he has done leads to a massive fortune.
Buddy Valastro's net worth as of 2023\
\stands at $10 million
Buddy Valastro House
There has been some of the buzz on the internet about Buddy Valastro's home located in North Jersey. The place stands at 7000 square feet with a backyard with a swimming pool and a Jacuzzi. He purchased the house in 2010 for $1.35 million.
Nevertheless, the price Buddy Valastro's house isn't its best-selling feature but rather, its fully automated system. It has the state of the art real-time surveillance system.
Everything is hooked into the system with user controls granted to the parents of the house. It started as a security measure, but the Cake Boss got tech-crazed and turned his home into a smart house. You can read all about it here.
Buddy Valastro Is Married To Wife Lisa Valastro Since 2001.
The Cake Boss was not always into pastry and eating, but he did love cooking. He was jacked up – one of the reasons his wife, Lisa Valastro fell for him.
The married couple met through his cousin as Lisa was her best friend. Slowly their romance bloomed and turned into marriage on October 14th, 2001.
He slowly built his pastry empire while developing his own family at the same time. The couple has four children with the oldest being Sofia born in April 2003.
Buddy Jr. followed her a year later on September 2004. Marco, their second son, was born in February of 2007 while their last born got conceived on February 2011.
Buddy and wife Lisa have lived in peace and harmony with no cases of infidelity. As such, the only time the two lovers get separated is only through work and trips.
Buddy Valastro Age.
The renowned chef was born on March 3rd, 1977 in New Jersey USA. His current age is 46 years old with the star sign, Pisces.
Wiki-bio, career
| | |
| --- | --- |
| Name | Buddy Valastro |
| Age | 46 years old |
| Date of Birth | March 3rd, 1977 |
| Place of Birth | New Jersey, USA |
| Profession | Chef, TV personality, entrepreneur |
| Net worth | $10 million |
| Ethnicity | Italian |
| Nationality | American |
| Wife | Lisa |
| Kids | 4 |
| Height | 5 feet 7 inches |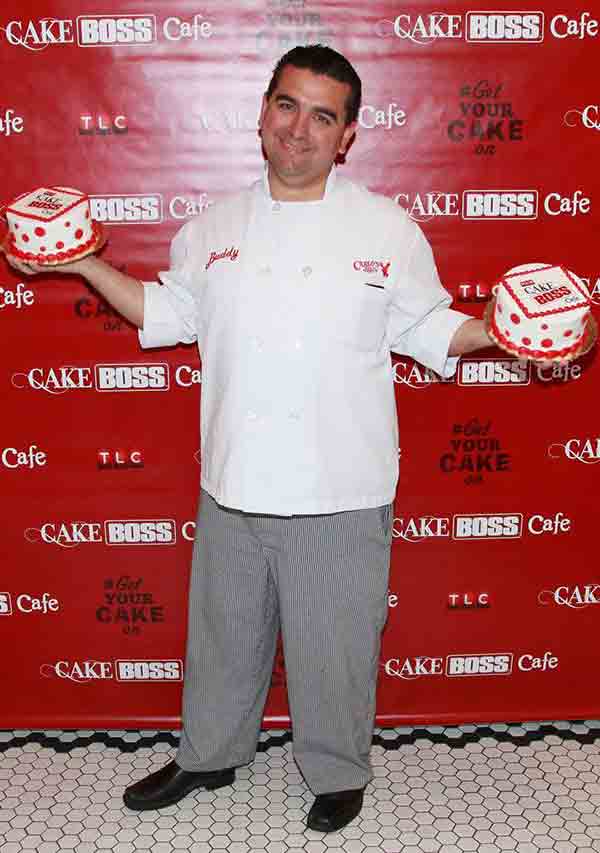 The Host of Kitchen Boss was born in Hoboken, New Jersey on March 3rd, 1977. He has four siblings all girls named Grace, Mary, Maddalena, and Lisa.
Being the only son, he was the pride of his father who owned a small bakery. The two were inseparable and worked together on different recipes. Sadly, his dad died when he was 17 living the business to him.
The Cake Boss Star Buddy Valastro picked up the mantle and elevated his small bakery into a famous brand known all over the country. It has branches in Orlando, Frisco, Dallas, Vegas, Philadelphia, New York, Minneapolis and so many more.
The prominence of the cake shops attracted TLC network who offered him a position to star in his show.
It has been a fantastic journey especially for the growth of his business. The exposure set him up for partnerships with different brands such as Whole Earth Sweetener Company as well as the Pound Bakery.
Away from the success, The Cake Boss once got arrested for driving under the influence. His license got suspended for three months on top of a $300 fine.
Summary
Buddy Valastro has been relentless in making his late father proud. With a net worth of $10 million from his fathers' legacy, a state of the art house, a loving wife, and kids, he must be smiling wherever he is right now.