The world was introduced to pest control expert Billy Bretherton in 2005 during the season five pilot episode of Dirty Jobs in Discovery Channel. He went on to make a few appearances on the show before starring in the reality TV series, Billy The Exterminator.
For now, satisfy your curiosity about Billy Bretherton wife and net worth.
Originally The Exterminators, Billy The Exterminator was released in early 2009 and chronicled the professional life of Billy and the jobs done by his Vexcon Animal and Pest Control family business.
Although the show had a huge fan base, it came to a surprising and unexplained end in 2012 just after its sixth season.
In the same year, Billy and his wife were arrested in Bossier City, Louisiana and charged with drug possession after police found synthetic marijuana and smoking equipment in the hotel room they were staying. But thanks to a plea bargain, the two were only fined and sentenced to community service.
Moreover, still in 2012, Billy left Vexcon citing family differences and moved to Illinois.
Billy Bretherton is Married to Wife Mary Bretherton. Thier Divorce Rumor Explained.
During the time Billy The Exterminator aired, the main continuing cast members were Billy himself obviously; his brother, Rick Bretherton; his parents 'Big' Bill and Donnie Bretherton; and his wife, Mary Bretherton.
Mary is, in fact, Billy's second wife as he has previously married a lady by the name Pam. She quit during the production of the first season.
There are speculations that Billy and Mary, who have a son named Bryce, got a divorce. However, since neither of the two has come forward to confirm or deny the rumors, we'd like to believe they are still together.
As for the rest of the family, Ricky tried to revive the show's ideology in a YouTube channel titled Vexcon The Exterminators.
It was short lived with only 16 episodes and less than 1300 subscribers. He however currently runs Vexcon following the retirement of both Billy and Donnie.
Billy Bretherton Net Worth 2023.
In his glory days, Billy Bretherton net worth was about $500,000 thanks to the A&E reality TV show, his Vexcon business, and a few advertising deals here and there.
But considering he left Vexcon, hasn't been on TV for a long time until recently, and we don't know of any other sources of his income he had and or has, so his net worth may have reduced significantly.
But now with new season rolling, we can expect his wealth to go up.
What Happened to Billy Bretherton? Where is Billy Bretherton now?
After disappearing on us, Billy The Exterminator star finally made a comeback on our screens in an original series titled Billy Goes North.
The show first aired on CMT Canada in November 2016 and later on A&E in April 2017 as the seventh season of Billy The Exterminator. In this season, Billy goes up against more fierce and dangerous pests in the Canadian wild.
Fans hope he is finally here to stay!
Billy Bretherton Age, Career, and Wiki-bio
55-year-old William 'Billy' Bretherton was born on the 16th of September 1968 to Father Billy Sr. and mother Donnie Bretherton.
Before being a reality tv star he enrolled in the United States Air Force at the age of 19. He was then sent to study biology and entomology after an aptitude test proved he had skills in those fields.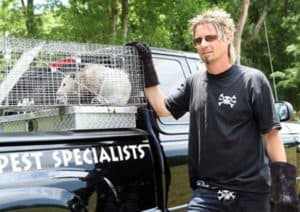 He began to seriously pursue an extermination career while posted at the Nellis Air Force Base in Las Vegas, Nevada. Billy started Vexcon in May 1996 with his family as his support. Billy's television career would start years later with the 2012 debut of The Exterminators later renamed Billy The Exterminator.