Alaska: The Last Frontier remains a favorite reality series for many people. The series features Kilchers family living life under tough conditions in Alaska. They not only have to learn how to live with no modern tools but also device ways to withstand the hostile winter.
Atz Lee Kilcher appears on stage a few times during Jewel's performances. Jewel is his sister. The way they struggle to live their life on the TV show leaves many people fascinated.
But is this the real life of Atz Lee Kilcher and his family?
To help you understand the Kilcher's much better, this article will tell you more about one of the sons of the main star, Atz Kilcher.
Read on to stay posted on real facts regarding Atz Lee Kilcher's net worth, his marriage with wife Jane Kilcher and their Kids Etienne Kilcher and Piper Kilcher.
Atz Lee Kilcher Net Worth 2023 is $5 Million.
Kilcher has accumulated some earnings from the TV Series which features his family. Did you know that music runs in his family?
Yes! That's right, and Atz Lee is not an exception. He is a good stage performer though he rarely engages in music. Atz Lee and his family mostly live off hunting and fishing.
Kilcher also has a lot of inherited wealth in his net worth. His family boasts land of huge acreage in their home area and other chunks around Alaska. In total, the family owns property in real estate worth $3.6 Million.
Atz Lee Kilcher net worth in 2023 is $5 Million. He and his family reside on a family homestead which leaves them with very few bills to pay at the end of the month.
Atz Lee Kilcher is Married to Wife Jane Kilcher.
You all know the tasty rumor that Atz Lee Kilcher is divorced. Well, this rumor remains just that, a rumor. Surprised? Well, Atz Lee Kilcher is married to Christina Jane Kilcher.
Jane hails from Homer and is a commercial fisher-woman. The two have been married since 2005.  Jane and Atz Lee Kilcher met in the 2000s.
The couple has trashed the rumors that they are to divorce. Both Atz Lee and his wife have rubbished those claims through their social media platforms. So, yes, don't expect a divorce soon.
Atz Lee Kilcher and Jane Kilcher Have 2 Children from the Previous Spouse: Son Etienne Kilcher and Daughter Piper Kilcher.
Does Atz Lee and Jane Kilcher have any children together? The answer is No! Atz Lee and Jane Kilcher do not have children together. But yes! they are blessed with two children from the different spouse.
Family people know that children are a real bliss; it's no different with this pair. Atz and Jane Kilcher are blessed with two children; a boy and a girl. The boy is Etienne Kilcher, while the girl is Piper Kilcher.
Etienne Kilcher is Atz Lee Kilcher's son from ex-wife and Piper is Jane Kilcher's daughter with the ex-husband
Jane posted an image of her daughter Piper on Facebook with a caption:
And yes that is my beautiful daughter piper in the photo … she doesn't want to film but I get her in photos lol!
There have been numerous talks regarding the fact that this family does not bring their Children into the limelight or on the reality show.
According to Jane, Atz's wife, the couple values their children's privacy more. She also asserts that her children are not ready to handle the negative commentaries that troll the media at times.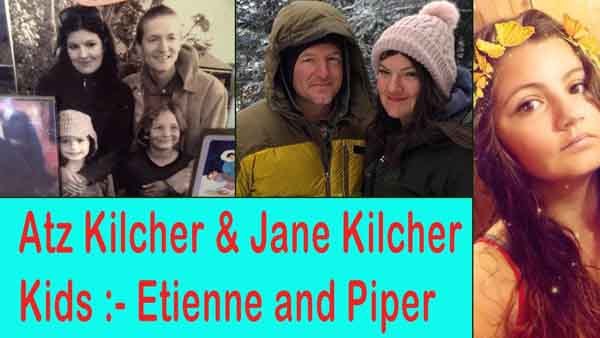 His Family
Lee comes from a large family. He is the son of Atz Kilcher. Atz Lee Kilcher has two siblings, his brother Shane Kilcher and Jewel, a songwriter.
Many people did not know that Jewel is Atz Lee's sister until she showed up at 'accidentally,' an episode on Alaska: The Last Frontier.
Wiki-Bio
He is the eldest Son of Atz Kilcher and one of the casts on Alaska: the la st frontier. This is a reality show that shows the daily lives of his family. The show airs on Discovery TV.
| | |
| --- | --- |
| Name: |  Atz Lee Kilcher |
| Age: | 46 years old |
| Birthdate: | 1977 |
| Height: |  5' 10˝ |
| Wife: |  Jane Kilcher |